Whirlpower marine thrusters - Supplied and fitted by Boatcraft
Bow thrusters are becoming more popular and more affordable. The close control and maneuverability they offer you will help you relax a bit more about tackling the trickier aspects of sailing, especially if you're short handed. Coupled with the boat's engine and rudder, bow thrusters offer total manoeuvrability for all occasions and conditions, enabling you to cope with any situation safety and with confidence.

A bow thruster is a motorised propulsion unit, mounted in a transversally incorporated tube fitted low in the vessel's bow. They can either be low-voltage electrically driven units, or hydraulic thrusters driven off the main engine. They are operated from the cockpit using either a joystick or a rocker switch.

Boatcraft have a wealth of experience fitting thrusters to yachts of all sizes. To find out more about the best option for your particular yacht, and your budget, give us a call on 01294 603 047 and we'll be happy to help.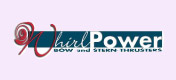 On this page;
| | |
| --- | --- |
| 1. | When selecting the appropriate thruster for your yacht or motorboat, you should bear in mind not only the design of the boat, but the prevailing conditions in the area in which you will be sailing. A power vessel with a flying bridge operating in windy, tidal conditions will require much more horsepower than a low profile boat based in inland waters. |
| 2. | Installation cost is a substantial part of the overall cost of fitting a thruster, regardless of the size of unit installed. It could be a smart move to pay a little more for a bigger thruster. A smaller motor under heavy load gives less operating time. |
| 3. | The lower the tube in the water, the better the performance. Recommended minimum is 140mm from waterline to top of tube. |
| 4. | Installing dedicated batteries close to electric models reduces power loss due to voltage drop and overheating cables. It also allows adequate accessibility for servicing and ventilation. An electric bow thruster is should not be used continuously for any length of time, due to the risk of overheating. |
| 5. | Hydraulic models, if driven from main engine, must have sufficient horsepower when the main engine is in idle. |