Webasto Water Heaters - Supplied and fitted by Boatcraft
Heating has to be considered a necessity rather than a luxury for those cruising in UK waters. When the weather turns nasty, the knowledge that there's a hot shower for everyone at the end of the trip certainly helps keep the spirits up. With a water heating system from Webasto, service water is heated for shower and galley. Webasto water heaters are also available as ready-to-use water stations.
Advantages of a Webasto water heating system are;
• Even distribution of warmth by means of radiators or blowers.
• Space saving installation in the engine room.
• Low fuel consumption.
• Low engine wear thanks to warm starts.
Boatcraft are Webasto's main dealers for Scotland and Cumbria, and our staff are fully trained to fit the Webasto range. Click the little mini menu on the right to jump down to your desired location on this page.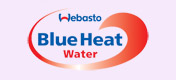 On this page;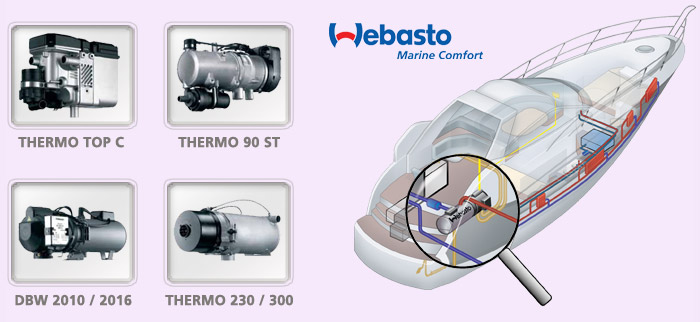 PRODUCTS
Thermo Top C - perfect for smaller yachts
Perfectly suited for warmth and comfort in small boats. You can be on the water in any kind of weather and always have a comfortable climate on board. The Thermo 50 is suited for extreme requirements. If you want more power then this heater is for you. With a 24-volt on-board power supply you can get more comfort on board even in the most adverse conditions.
Thermo 90 ST - state-of-the art controller and easy service
This device is ideal for daily use: infinitely variable temperature adjustment, high heat output, compact dimensions, service friendly technology, and an extremely low noise level. The Thermo 90 ST water station is pre-mounted in a stainless steel housing and enables high heat output with an infinitely variable temperature control. In addition to the large Thermo 90 ST, the Thermo 40 and Thermo 50 are also available.
DBW 2010 / 2016 water heater - the robust classic
The most robust device on the market has proven itself through many years of use. The water heating system is also suitable for demanding applications, with high heat output of 11.6 kW. Used as a central unit, the Webasto water station heats up the hot water system, which consists of radiators and fan heat exchangers. In addition, the domestic water is heated in the Webasto calorifier as needed.
Thermo 230 - for extreme requirements
The device is suitable for very large boats and extreme conditions. The heater has the power to keep every corner of your boat warm and it is equal to all challenegs, even in extreme weather. The powerful and proven Thermo 230 Water Station is particularly well suited for heating up large boats and yachts. It is warm and cosy on board with sufficient hot water for comfortable relaxation.

CONTROLLERS
Thermo Top digital timer
You can program three different start times, or have it awakened at the time you set. Continuous heating is also possible.
Combi-timer
The integrated temperature preset allows preheating to the desired temperature. Three programmable start times provide flexibility and convenience. Continuous heating is possible. Available for the DBW 2010/2016.
Thermo Call
Switch on and off, pre-program the start time, and preset the heating and ventilation time: it's all quite simple via telephone, from a fixed line phone or a mobile. Choose either TC2 connect: Heat per SMS, or TC2 Comfort: Heat per voice control. Your boat will then greet you with the warmth and cosiness you look forward to when you open then door.
Telestart T80
This small radio remote control unit has a range of up to 1,000 metres and, with the feedback function, it is not only practical but also particularly easy to use.
Telestart T91
The smallest radio remote control unit on the market offers optimal operating convenience in a fascinating design.
Telestart T100
Automatic heating time calculation, simple to operate. You can select your comfort settings and you have a real gem in hand!